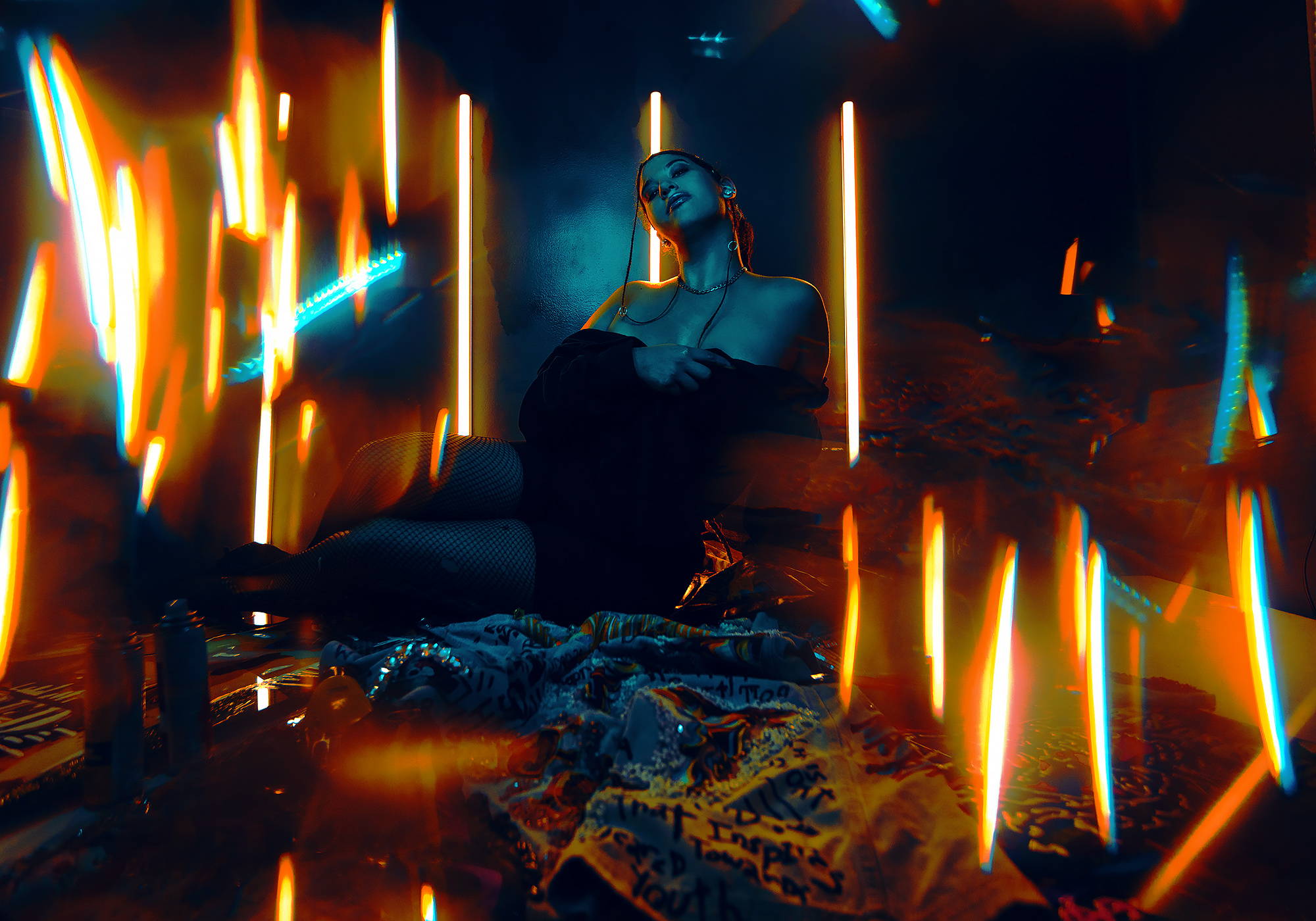 Sydney Steele (aka Cash Monet), formally trained in classical realism, steps outside the boundaries with her recent work inspired by pop culture, thrifting and her experiences with her expression. The young artist is known for her spotlight in the Miami art scene, from Art Basel shows, to rustic pop-ups and live painting at Miami's hottest clubs and events. Over the years, Sydney has refined her techniques and signature unique pop art deco style. Sydney is known for her use of unique mediums and repurposing thrifted vintage materials to give them new meaning in her art work.
Sydney, born and raised in New Jersey , found her passion at a very early age, having been painting since age six, where she would sell her art work to interior designers for them to use in showings and models. What originally started as a young child's side hustle, soon blossomed into a fruitful career. In high school, Sydney studied classical realism at Rebecca Tate's Studio in Philly where she focused on still life and lighting techniques using graphite, colored pencils, oil and watercolors. Sydney felt like she couldn't express herself freely, and found solace in her art. Shortly after at the Studio In Philly, Sydney would spend 8+ hours a day live painting nude models using oil paints while she simultaneously studied the anatomy of the human body. This is where Sydney's interest in live painting originated from.
While still in high school, Sydney began her own company called "Syd's Souls" where she sold custom hand painted shoes online via Shopify selling over 200 pairs within her first year. After high school Sydney pursued a degree in illustration at Syracuse University. During Sydney's years at Syracuse university her close friends well known on Instagram as @commentsbycelebs encouraged her to start an art-focused Instagram account during her college years. Despite keeping their own celebrity interactions a secret at the time, the group urged Sydney to create a distinct account that would showcase and share her artistic talents with a wider audience, rather than simply using her name as the account handle. Throughout college, Sydney's business only grew. Having been in college she found a new client base for her customized art and began selling over 4,000 products online - from custom dorm accessories, to canvas prints, mugs, coasters, acrylic works, and more. Sydney also became the go-to artist on campus to hire for decorating college party venues with huge murals.
At this time, Sydney believed working as an illustrator at Disney was her dream job… until she lived in New York City. Once in NYC, Sydney met James Fort while she ghost painted for some big names. It is around this time where her nickname "Cash Monet" was coined. Once the pandemic hit, Sydney left behind NYC and her plans to work at Disney to begin her new venture in Miami. As most of the world, Sydney found herself locked at home and bored and bought and iPad- which is how she found her love for digital art through procreate and photoshop. She began drawing her favorite TV stars, the Kardashians, and tagging them on social media until they reposted her work which gained her several hundreds of followers.
Sydney began networking in Miami and exploring the art and music scene. The world's gathering restrictions fostered the perfect weather for Miami's underground scene to blossom, and for Sydney to grow with it. She began working on installations, pop ups, live paintings, and creative direction for a popular underground party, "The Loop". The connections she made through the underground scene led her to be featured at festivals, concert events and private parties.
Once restrictions were lifted and typical life was resumed, Sydney went on to be featured at Super Bowl 2021 after party in Tampa , where she did her first live painting for lil pump Then Came around Art Basel Where she was featured in Multplie venues including Red Dot & Spectrum Art Fair. This opened the doors for her to combine her love for painting and events to host her own events where over 300 people attended. Sydney has now been featured in galleries in NJ, Miami, NY and Philly. Sydney also ventured into the world of cryptocurrency and developed a highly prosperous collection of unique animated non-fungible tokens (NFTs) on her own, which ultimately sold out.
Once broken into the Miami Nightlife scene, Sydney began working with several hospitality groups and performed live paintings using markers under UV & Blacklight at local nightclubs. Sydney's has performed live paintings of Rick Ross, DeadMau5, Fabulous , Fat Joe , Dj Irie, Dj Sasha , Dj Nano, Danny Tenaglia and many more Showcased at venues all over ; including Tao Nightclub (NYC), SLS South Beach, and Swan By Groot Hospitality in Miami. Sydney has the privilege of being offered various live painting engagements and opportunities by esteemed hospitality groups in Miami who have shown their faith in Her abilities. Notably, Third Eye Hospitality Group, led by Yair Hilu, has been a constant source of support throughout my career. In addition, Phil The Mayor and Barry Mullineaux have played a significant role in helping Sydney achieve her childhood dream of painting for her favorite artist and contributing to the vibrant artistic scene in Miami.
2022, Sydney had the opportunity to work with Tony Visions Art. What started as pop ups and helping out with sales grew into styling models for runway shows and then painting clothing for Tony's shows. This led to the Tony x Cash Collab featured in 2022 Paris Fashion Week where the duo debuted their work in Paris Fashion Week showcased at the iconic Louvre museum in Paris, France.
After receiving exposure at Art Basel 2022, she has been featured in 12 art exhibitions, including her second year exhibiting at Red Dot/Spectrum, as well as at renowned venues such as Art Plug Powerhouse and E11even MIAMI residence. Sydney's physical embodiment of her art work onto soothing drew headlines.
Sydney's art is inspired by a cumulation of all these past experiences and more. Growing up, Sydney felt like she was held back and often could not express herself Growing up. Today, Sydney radiates confidence in her work depicting sexuality in the woman she draws in iconic moments, giving these women she draws the sexual power she felt she did not have at one point in her life. She taught herself how to embrace the radical and unconventional with the help of other artists. Sydney's second love, thrifting, is incorporated in her work as she embellishes her art with repurposed and thrifted materials she finds from all over. Sydney uses mediums such as acrylic glass, resin, puffy paint, oils, glitter, spray paint, digital animation, and more. Her unique style is very much outside the lines as she continues to grow in her medium and techniques.